RobotArenaChallenge è la prima community italiana che si ispira agli show televisivi come BattleBot e RobotWars categoria "Antweight"
RAC – Robot Arena Challenge (www.robotarena.net) è la prima community Italiana sulla robotica competitiva categoria "Antweight non distruttivi" che rispetta il regolamento internazionale.
Prendendo ispirazione dagli show televisivi come BattleBot e Robot Wars lancia il primo torneo agli appassionati all'interno della struttura The Hub – LVenture Group.
Insieme alla 42 Roma Luiss, lanciamo il primo torneo categoria "Antweight 175 gr" dedicato agli studenti e alla community Robot Arena Challenge.
L'evento inizierà alle ore 18:00, presso The Hub LVenture 3 Piano – La terrazza. L'iscrizione è obbligatoria.
Di seguito il regolamento per partecipare con il proprio robot al torneo:
Chi non è munito di robot, metteremo a disposizione al team iscritto dei robot standard, peso 175 gr.
ISCRIVITI al torneo e partecipare come player!!!
Metteremo in palio della schede RAC32 al team vincitore.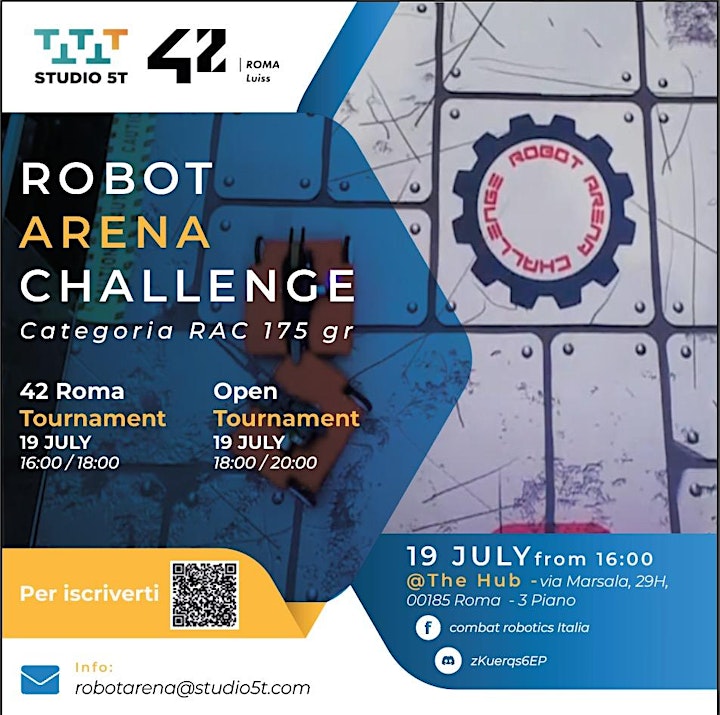 Di seguito un esempio di robot categoria RAC "Antweight 175 gr"